Win Your Own Self-Lacing 'Back to the Future' Nike Shoes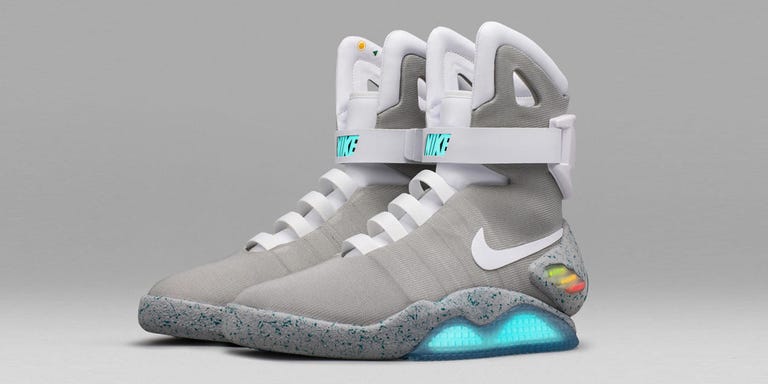 We may earn a commission for purchases made through our links.
Of course you remember those self-lacing Nike Mag shoes that Marty McFly hurriedly put on when he traveled to the Hill Valley of the future in Back to the Future II. And maybe you heard that Nike gave a real pair to its beloved star, Michael J. Fox, last year. But now you can support the Michael J. Fox Foundation and the fight against Parkinson's Disease by entering to win a pair of your very own!
More: 12 Stylish Running Shoes for Women
Here's what you need to do: Log in with your Nike+ account, or create one if you don't already have one. Donate $10 either on the site or via the Nike+ app. There's no limit to how many $10 donations you can make, and each donation is one entry to win one of the only 89 pairs of available Nike Mags!
You have from now until October 11 to enter, and winners will be notified on October 17. We don't have any tips as to increasing your luck, but maybe enter at precisely 10:04 p.m. on Saturday night? While playing "Johnny B. Goode" in the background, of course.
Back in 2011, the Michael J. Fox Foundation raised $4.7 million for Parkinson's research when Nike auctioned off 1,500 pairs of the Nike Mags on eBay. Here's your second chance to get these shoes and support a great cause. (Pairs will also be auctioned off this month and next, in Hong Kong, London, and New York City.)
Yes, the shoes glow just like in the movie, and owe their ability to do adapt to a wearer's foot to its new system, Adaptive Fit, used in the Nike HyperAdapt 1.0, available at the end of this month. (Another wonderful feature — because the Nike Mags are self-lacing, folks with mobility issues or movement disorders, such as Parkinson's, will have a much easier time getting them on than if they had to lace up their shoes.)
"Though it initially shared only a few seconds of screen time with Michael, the idea behind the Nike Mag unlocked something much bigger at Nike," said Mark Parker, Chairman, President and CEO of NIKE, Inc. "It sent us down an uncharted path of innovation, but it also opened our eyes to our ability to fight some of the world's biggest challenges. We feel privileged for the opportunity to raise even more awareness for the fight against Parkinson's."
Related:
Get the Nike Self-Lacing HyperAdapt 1.0 This Holiday
Best Fitness Trackers to Log Your Workouts