Black Friday and Cyber Monday's Hottest Men's Style Deals of 2018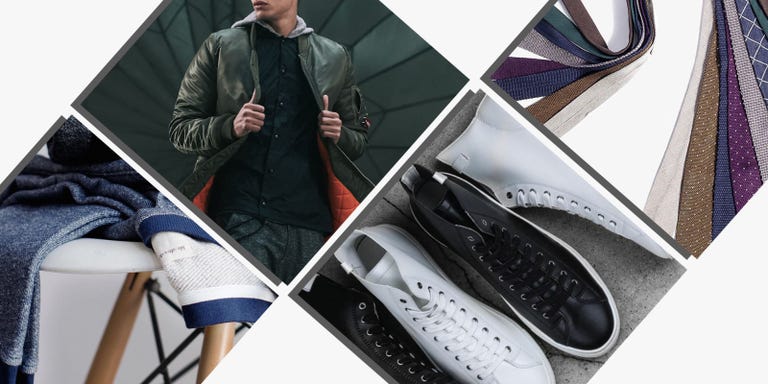 We may earn a commission for purchases made through our links.
It's that time of year again, folks! Black Friday is right around the corner, and there are a ton of great deals to keep tabs on. As expected, some of your favorite mega retailers and brands — Old Navy, Macy's, Tommy Hilfiger, and the like — are rolling out significant savings across the board to save us all a healthy bit of cash this coming weekend. We've found plenty of savings from one end of the web to the other, but here are some of our favorites that you should definitely be looking at.
2(X)ist: From underwear to outerwear, save 40% site-wide starting Nov. 21 at 2xist.com
adidas: Get your favorite hoodies, tracksuits, outwear, footwear, and more while saving up to 50% on select styles starting today at adidas.com.
Amazon: Your favorite shopping destination for everything has some incredible deals starting at midnight on Thanksgiving and going through Cyber Monday across 30 categories, including men's fashion! Save 45% or more on stylish watches, 50% off T-shirts, more than 70% off winter gloves, and so much more at amazon.com/blackfriday.
Alpha Industries: Go to Alpha Industries' website at midnight between Nov. 22 and 28 to "unzip" its deals, which include promo codes for up to 50% off your purchase. There's even a contest to enter to win free jackets every day on alphaindustries.com!
Alternative Apparel: Stock up on the softest basics including T-shirts, hoodies, and joggers with 30% off using the code THANKU30 Nov. 23 through Cyber Monday on alternativeapparel.com.
Barneys New York: Whoa, Christmas came early! Save 40% off designer collections starting now through Nov. 27 at barneys.com.
Barneys Warehouse: The site with killer marked down designer pricing just got even better! You'll save 50% site-wide Nov. 23 through 26 for Black Friday, and 60% site-wide on Nov. 27 at barneyswarehouse.com.
Baxter of California: Get the well-groomed look with 25% off and free shipping starting Nov. 20 with the promo code HOLIDAY17, and then get 30% off on Cyber Monday. Take care of all your hair, shaving, and skin care needs to look fresh AF for 2018 at baxterofcalifornia.com.
BirchboxMan: The more grooming products you buy, the more you save! Starting at 10% off orders over $30, you can save major bucks on full-sized products, limited-edition boxes and kits, and even subscriptions at birchbox.com/men.
Blackwood For Men: Get so fresh and so clean with 50% off site-wide on Nov. 24 at blackwoodformen.com.
Bombas: Can you ever have too many socks? Go wild with 20% off site-wide on cool printed socks and even underwear now through Nov. 30 at bombas.com.
Burton: Be ready to hit the slopes (or just brave the cold) with 20% off outerwear, apparel, backpacks, and winter necessities from Nov. 23 through 27 on burton.com.
Daniel Hechter Paris: Put on the Ritz with some snazzy seasonal styles at 25% off, starting now through Nov. 29 at macys.com.
East Dane: Spend more, save more! With the promo code MORE17, you can save 20% off orders of $200, and up to 30% off the more you spend! With over 1,000 markdowns, you'll have no problem spending serious coins at eastdane.com.
Four Laps: Get a running start on Black Friday shopping with 30% all running gear starting now through Nov. 27 at fourlaps.com.
Florsheim: Up your shoe game with 25% off from Nov. 21 through 24, and then get a major 50% off on Cyber Monday on florsheim.com.
Frescobal Carioca: Swim fans, rejoice! Save 40% now through Nov. 27 on cool swim trunks, T-shirts, and all your beach vacation essentials at frescobalcarioca.com/us.
Grana: Take your stylish wardrobe essentials to the next level with 20% off site-wide starting Nov. 21 through 30, and save 30% off your order over $200 on Nov. 24 at grana.com.
Hook & Albert: Use the promo code FAMILY now until the end of Cyber Monday for 25% off all the dapper accessories a man could need at hookandalbert.com.
House Of Future: Sneakerheads, rejoice! There's 50% off site-wide from Nov. 22 until Dec. 1 at thehouseoffuture.com.
Life After Denim: Enjoy 40% off site-wide with the promo code GOBBLE40 for some stylish menswear, starting Black Friday and ending Cyber Monday, at lifeafterdenim.com.
Macy's: The big-box retailer is helping you save some big bucks! This Black Friday, save 75% off select sport coats and overcoats, 50% off tops and sweaters, and get jeans as low as $20! Most deals kick off with Cyber Week on Nov. 26 with 50 to 70% off men's footwear and Michael Kors for Men Eau de Toilette Spray for $25 (regularly $50) at macys.com.
Mavi: Get all-denim-everything this Black Friday and Cyber Monday with 30% off site-wide using the promo code BLACKFRIDAY starting Nov. 21 at mavi.com.
MeUndies: Go for a fresh start this holiday season with killer Black Friday deals on underwear packs, along with 20% off site-wide on Cyber Monday, at meundies.com.
Miansai: Take your look to the next level with stylish jewelry from Miansai at 20% off during Black Friday weekend at miansai.com.
Mr. Porter: Starting today through Nov. 27 you can save 30% on select items from top designer brands like Saint Laurent, Tom Ford, and Burberry at mrporter.com.
Nisolo: Stock up on the perfect travel-ready bags or streamlined sneakers with Nisolo's Black Friday sale. It runs from Nov. 24 through Nov. 28, and you can save up to 50% off select styles at nisolo.com.
Outerknown: Shop 30% off site-wide for a week-long sale starting Nov. 20, excluding sale items, on outerknown.com.
PRPS: Get some fresh denim duds for 25% off using the promo code BF17 from Nov. 21 through Nov. 26, and there's no code needed on Cyber Monday at prpsjeans.com.
Puma: Get ready to get physical in the new year with 30% off your purchases all week long starting Nov. 22 at us.puma.com.
Spiritual Gangster: Get Zen this shopping weekend saving 40% site-wide from Nov. 24 through 27. The cool and casual athleisure brand is partnering with Feed America to donate proceeds of every item purchased to provide a meal to a person in need at spiritualgangster.com.
Todd Snyder: Get ready to go wild with 30% off the entire site starting Nov. 22, and you'll even get free shipping on Cyber Monday! The discounts go even deeper starting on Thanksgiving, with flannel shirts and full-zip hoodies for $98 (regularly $178) and quilted bombers for 40% off at toddsnyder.com.
Tommy Hilfiger: Get a designer look for a discounted price! Tommy Hilfiger celebrates Black Friday with 40% off everything plus free shipping with the promo code GIFT40. If you go on a spending spree and purchase over $100, you'll get an additional 20% off at usa.tommy.com!
Saturdays NYC: Find your perfect weekend look with dope hoodies, casual printed button-down shirts, and snazzy chinos with 25% off starting Nov. 20 using the promo code FRIENDS25 at saturdaysnyc.com.
Old Navy: Lose all chill for Old Navy's three-day Black Friday sale (Nov. 22 through 24) with 50% off your entire purchase and 50% off everything on Cyber Monday at oldnavy.com.
Don't forget to bookmark these pages:
How to Shop Black Friday and Cyber Monday Deals
All the Best Cyber Monday Sales This Year
Every Black Friday 2018 Sale You Need to Know About
Follow MeticStores.com on Facebook and Pinterest for all the latest products, so you can find the item that's perfect for you (at the right price)!